Looting the Pension Funds
Rolling Stone Matt Taibbi,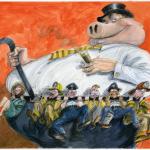 I
n the final months of 2011, almost two years before the city of Detroit would shock America by declaring bankruptcy in the face of what it claimed were insurmountable pension costs, the state of Rhode Island took bold action to avert what it called its own looming pension crisis. Led by its newly elected treasurer, Gina Raimondo – an ostentatiously ambitious 42-year-old Rhodes scholar and former venture capitalist – the state declared war on public pensions, ramming through an ingenious new law slashing benefits of state employees with a speed and ferocity seldom before seen by any local government.
Detroit's Debt Crisis: Everything Must Go
[1]
Called the Rhode Island Retirement Security Act of 2011, her plan would later be hailed as the most comprehensive pension reform ever implemented. The rap was so convincing at first that the overwhelmed local burghers of her little petri-dish state didn't even know how to react. "She's Yale, Harvard, Oxford – she worked on Wall Street," says Paul Doughty, the current president of the Providence firefighters union. "Nobody wanted to be the first to raise his hand and admit he didn't know what the fuck she was talking about."