Why Inequality Matters and What Can Be Done About It
http://www.nextnewdeal.net/stiglitz-why-inequality-matters-and-what-can-be-done-about-it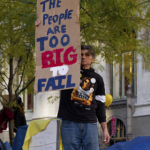 Roosevelt Institute Senior Fellow and Chief Economist Joseph Stiglitz will speak before the Senate Budget Committee today on the topic of "Opportunity, Mobility, and Inequality in Today's Economy." His prepared remarks are below. Click here 

[1]

 to download all of the statements from the hearing.
It is a great pleasure for me to discuss with you one of the critical issues facing our country, its growing inequality, the effect it is having on our economy, and the policies that we might undertake to alleviate it. America has achieved the distinction of becoming the country with the highest level of income inequality among the advanced countries. While there is no single number that can depict all aspects of society's inequality, matters have become worse in every dimension: more money goes to the top (more than a fifth of all income goes to the top 1%), more people are in poverty at the bottom, and the middle class—long the core strength of our society—has seen its income stagnate. Median household income, adjusted for inflation, today is lower than it was in 1989, a quarter century ago.
[1]
[2]
 An economy in which most citizens see no progress, year after year, is an economy that is failing to perform in the way it should. Indeed, there is a vicious circle: our high inequality is one of the major contributing factors to our weak economy and our low growth.